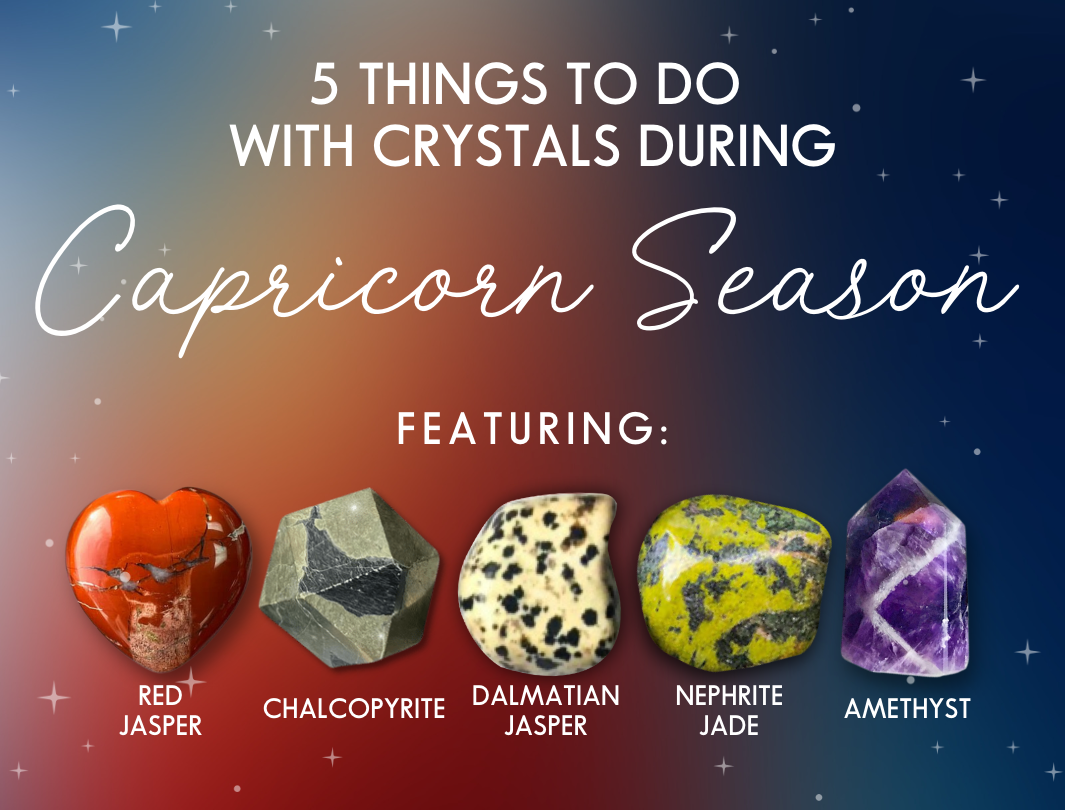 Five Things To Do With Crystals During Capricorn Season
Happy Capricorn Season and Winter Solstice! Capricorn season always occurs alongside the new year, which perfectly reflects the energy of Capricorn. It will be a potent time to focus on initiating new ideas, establishing new and responsible routines, and overall feeling more productive, serious, and motivated.
 
We will have our final Mercury Retrograde starting on December 29th until January 18th, which makes for a great time for drafting out ideas and plans. It will be important to have patience and be gentle with ourselves though, because the planet of action and drive (Mars) is still retrograde until March. It might take some time for these goals and ideas to come to fruition, but the work, intention, and energy put in now will be reflected in the future!
Here are five things you can do this Capricorn season with crystals that will support you through the energy of the season:
Capricorn Season + Amethyst
A wonderful time to ditch a bad habit for something healthier. Tune into Capricorn's motivation and strength this season and pick yourself back up if you fall off course. Need some extra help? Your trusty Amethyst is ready to support you.
Amethyst interacts with your auric field turning self-sabotaging thoughts into positive ideas and actions. Meditating and setting a clear intention to break free from whatever bad habits you have will increase the effectiveness. 
© Rocks with Sass LLC​​
Capricorn Season + Dalmatian Jasper
Grab your Dalmatian Jasper and organize one area of your life. Anything from your office, emails, closet, even the junk drawer in the kitchen. Less clutter will keep you from feeling overwhelmed. 
Dalmatian Jasper is a stone filled with determination. Feel encouraged as you thoughtfully plan projects and tidy your space, reflecting on any and all progress made, and then adjusting as you fully complete your task.
©Rocks with Sass LLC​​
Capricorn Season + Jade
Send a comforting message to someone important to you. Jade can support you in cultivating strong, loving relationships that are built on compassion, balance and honest communication. This kind of communication can bring understanding, growth, and connection in all types of relationships: family, romantic, friends, and coworkers. 
Bring Jade with you to social gatherings to help nurture these connections and support happiness and harmony in your relationships.
©Rocks with Sass LLC​​
Capricorn Season + Red Jasper
Lean into productive work. Mark those things off your to-do list that have been hanging around. Red Jasper, the stone of endurance, will help you stay focused on whats important and get the job done!
Channeling energy through the sacral and root chakras, Red Jasper activates physical stamina and strength. The activated root chakra grounds you into the present moment allowing your overactive mind to connect to all five senses. You are ready to make progress now!
©Rocks with Sass LLC​​
Capricorn Season + Chalcopyrite
It's time to create the reality you wish to see for yourself. The first step is planting seeds of intention during the New Moon on December 23rd. Six months from now, during the Capricorn Full Moon, you could start seeing your new reality before you. 
If you find you are having trouble with blockages, turn to Chalcopyrite for support. This crystal offers you the energy of transformation and can assist you in reaching even your loftiest of goals. Nothing is out of reach!
©Rocks with Sass LLC​​
This blog post only covers five of the twelve crystals we have selected for Capricorn season. See the full list below and let yourself be inspired by all the ways you can incorporate these crystals into your life over the next 30 days.
©Rocks with Sass LLC​​